Top 5 Free Alternatives of Blokada App In 2018
Online advertisements can be thought of as a necessary evil which is also the only way a website can support itself. But the method of operation of these ads might prove to be highly irritating at times since they often pop up and flash for causing inconvenience. These is where ad blockers come in to tag along adequate respite. Blokada refers to an open source application which has been specifically developed for Android users. This ad-blocking software acts like a firewall for blocking the access of various advertisements. Today, we are going to take you through some similar applications which offer similar functionality as that of Blokada.
This efficient ad blocker having a wide spectrum can block trackers, ads and malware sites. It is compatible with Chrome, Chromium, Firefox, Edge, Safari, Opera, Thunderbird etc. With a user base of more than 12 million, uBlock Origin has garnered praise from technology websites worldwide since it is less memory-intensive in comparison to its peer extensions. With uBlock Origin, users can decide on the web content they wish to accept in their browser. This content filter for your browser works in association with filter lists and instructs the program in regards to the content which needs to be blocked from your browser. Some of the top-notch filter lists of uBlock Origin are Malware Domains list, EasyPrivacy List, Advanced Tracking List and AdServer List.
This simple and lightweight ad blocker has proven to be beneficial for preventing phishing attempts as well as other threats. You can entrust AdLock for replacing all known ad blockers with its ability of effectively filtering HTTPS traffic by deleting ads on the page rather than blocking requests to advertisement domains. This method can be of tremendous assistance in removing all pop up ads without slowing down the loading time of website or breaking its links.
AdLock operates more like a firewall by fine tuning internet access for various applications and bringing along mammoth savings in bandwidth, mobile data and even battery. You can trust AdLock for checking URLs of various suspicious web-pages to stop phishing attempts and examine whether they contain bugs and malware. All advertisements present in games and apps get deleted by AdLock so that you can use the same in a seamless fashion. All known browsers such as Opera, Google Chrome, Microsoft Edge, Mozilla Firefox and Internet Explorer are compatible with AdLock.
Also Read: Install Netflix
This premier non-root ad blocker meant specifically for Android users implements modern technology for filtering out advertisers before they can invade your app or browsing experience. AdClear has already garnered a niche for itself in the market of ad blockers coupled with its versatile capability of blocking encrypted as well as YouTube ads. The Doze and Firewall features of AdClear can be of paramount assistance in saving battery bandwidth as well as reducing loading times of users and keeping them secured from malware-infected advertisements.
The best part of using this ground-breaking software is that you can avail all its functionalities absolutely for free. Developed by tech firm SEVEN Networks, AdClear functions as a VPN layer in between the site server and your phone. It can thus load the original site content by filtering out all advertisements. On installing their CA certificate, you can block encrypted ads although you can block normal advertisements without installing the same. AdClear can also be of assistance in saving your mobile data since much time is not required for loading ads while visiting websites.
This easy to use software can help you in both blacklisting and whitelisting net requests originating from within a web page in accordance with point-and-click matrix. uMatrix is a point-and-click matrix-based firewall equipped with a plethora of privacy-enhancing tools which can help you in exercising utmost control while allowing or forbidding different classes of requests proposed by your browser. You can thus block ads, iframes, scripts any many more using uMatrix.
You can take the final call in regards to where you wish to connect your browser as well as the type of data you wish to download and execute with this versatile software. uMatrix usually works in a block-all/allow-exceptionally mode. Thus, websites requiring 3rd party scripts are most likely to be "broken." The efficient blacklisting of this dynamic software will ensure that JavaScript shall not execute, cookies won't leave your browser, tracking pixels won't get downloaded and plugins won't play.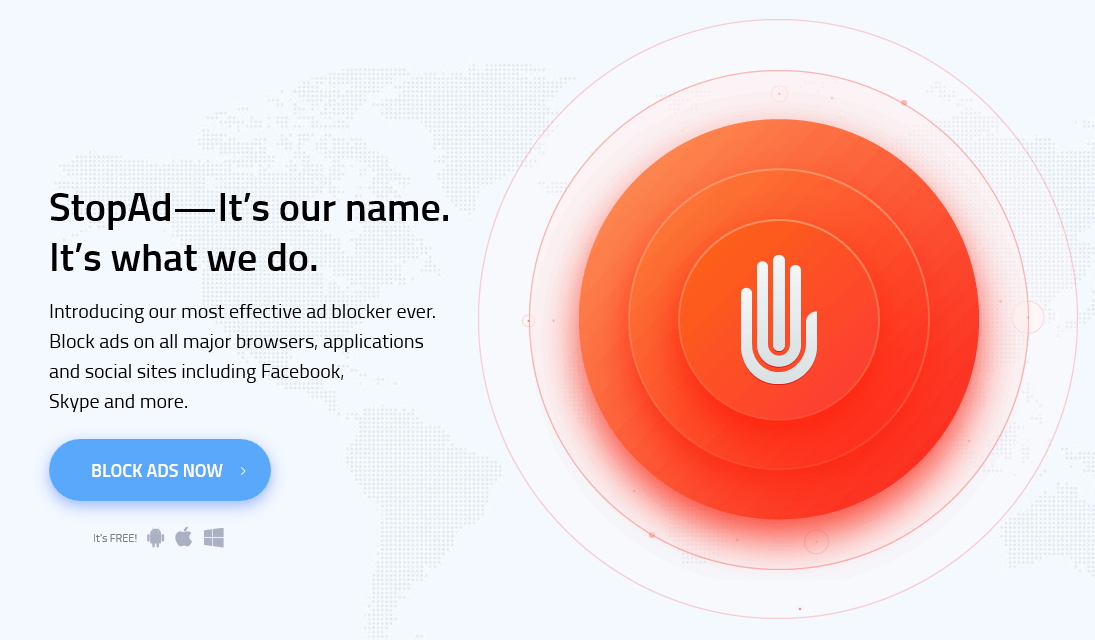 This special software has been designed for removing all pop up ads appearing in various web pages. This can also cater to sponsored ads which are infamous for plaguing social media websites such as Twitter, Facebook etc. You can thus expect a much more satisfying web surfing experience while using this versatile ad blocking software. StopAd can also enhance your level of security during net surfing by safeguarding the private information of users which otherwise gets shared with potentially malicious companies and unseen advertisers automatically. It is also known to halt browser-based crypto mining.
Also Read: Showbox For PC Windows
The fact that ads spontaneously get removed adds inertia to the surfing experience as pages' load quickly. This easy to use software can thus serve as the ideal option for people who wish to bid adieu to those pesky advertisements in a free of cost and easy manner. Although certain platforms are there which the software is unable to banish ads from, the very fact that it works seamlessly on almost all forms of popular webpages can serve as an enough big cause for investing your time and effort in the same. StopAd is compatible with Mac, Windows, Android and iOS operating systems as well as popular browsers such as Safari, Chrome, Firefox, Opera, Internet Explorer, Edge etc.
Finding ad blockers for free can prove to be an extremely cumbersome task. The main reason behind this is that the main source of revenue of various search engines is through advertising and blocking these ads can cause the revenue to diminish rhetorically. Developers who depend on revenues arising out of advertisements will thus convert their application to paid mode from its free version or even search for greener pastures in different markets for publishing their applications.