Top and Renowned Messaging Apps in 2019
WhatsApp – This freeware owned by Facebook uses internet for transmitting messages, video, audio, images, contacts and even location. WhatsApp can also be used on your desktop for keeping a tab on all your client communications without having to take a look at your smartphone time and again. Some of its unique features are:
Real time location tracking.
Messages which have been wrongly sent can be deleted from your recipient's phone.
Messages in a group chat can be selected and held for replying specifically to the same.
Group calling for video and voice calls help in interacting with three people simultaneously.
iMessage – This is the built-in instant messaging service of Apple which allows users to send pictures, text, location, sound and video in a quick and easy manner to others iOS owners. iMessage can operate in your smartphone simultaneously with MMS and SMS so that you can stay in touch with your Android and Windows user friends. Some of its standout features are:
Effects such as bubbles, loud, slam, invisible or gentle can be applied on the messages apart from turning the entire screen to confetti, balloons, fireworks, lasers or even shooting stars.
3x bigger emoji's can be used to grab the attention of your receiver.
Haptic Taps, Hand-drawn sketch and sensor-read Heartbeats can be send through its Digital Touch feature.
Download: iMessage For Windows
QKSMS Messenger – This open source messaging application comes with an intuitive and clean interface which is bound to delight all its users. You can even customize the chat interface using various color schemes. It also becomes possible to use different mobile numbers with its multi-sim functionality. Some of its standout features are:
Automatic spam filtering.
Allows searching through conversations.
Renders group chat facility and MMS support.
Accessibility support for Samsung Voice Assistant and Google TalkBack.
Compatible with Android Wear.
Handcent Next SMS – This customer-oriented SMS app can suit your personal requirements with its rich text messaging feature. Users can thus change any part of the app in accordance with their liking. You are bound to feel delighted with the immersive texting experience offered by the Material design interface of the Handcent Next SMS which can definitely provide you with an upper hand over its peer messaging apps. Some of its key features are:
You can text from any device of your choice without having to touch the android phone coupled with Handcent Anywhere.
Multi language support.
Encrypted messages are stored in private boxes for being accessed using unique passcodes.
GroupMe – You can now stay in touch with your near and dear ones round the clock with GroupMe app wherein you can send texts along with emoji and videos to make it all the more interactive. Some of its key features are:
You can exercise ultimate control over notifications by muting specific chats, the entire app or even ending/leaving group chats.
All your memories get saved in the gallery for exploring the videos and photos shared in the group forums.
Possible to create events and even track RSVPs.
Calendar features assists in organizing events directly using the application.
Textra SMS – If you are on the lookout for a highly customizable and super-fast alternative to the traditional Android messaging app, then Textra SMS can serve as your ideal pick. You can toggle its functionalities in accordance with your specific taste and mood for delivering enhanced messaging experience to your android device. Even though you can purchase this app absolutely for free, it is advisable to make the one-time in-app purchase for unlocking the ad free version. Some of its salient features are:
Allows scheduling of messages.
Text can be stopped while sending.
Offers more than 150 material design themes for taking your pick.
Messages sent by blacklisted contacts can be blocked.
It is compatible with MightyText, Pushbullet, Android Auto and Android Wear for quick reply and enhanced notifications.
Can support dual-SIM devices belonging to Android 5.1 and above.
Yaata – This newcomer in the world of texting comes with diverse potential as it is crafted in sync with the true Android spirit. You can even configure and personalize this app in accordance with your preference. In spite of providing reliable, powerful and super-fast message transmission, it takes up just 3.9MB of your smartphone memory. This user-friendly SMS app can thus cater to all the requirements whether of a rookie or a technology geek. Some of its features are:
Sends delivery report for both SMS and MMS conversations.
Can backup and restore messages.
Can send and receive all forms of media such as video, audio, pictures, GIFs, VCards etc.
Download: Shareit For PC
Mood Messenger – This light-weight messenger app serves as a tantalizing fusion of text and web messenger by packing in those features which can help in catering to your text messaging requirements. Apart from the obvious customization option which can help users in toggling with the way in which the final app looks, it also packs in a solid surprise in the form of intelligent word prediction while you type. It even flashes a matching smiley for being inserted quickly in the text typed by you. Some of its key features are:
Renders dual Sim support.
Allows location sharing on a real-time basis.
Comes with predictive and animated emoji for every occasion.
Users can watch and send YouTube clips directly from the application.
Every conversation can be customized by selecting amongst the available wallpapers or uploading a picture of your choice.
Any conversation can be switched to private mode for being hidden from the displayed conversation list.
Signal Private Messenger – This secure communication medium is the brainchild of Moxie Marlinspike and has been developed for those users who impart greater importance to the privacy of their data. Messages transmitted over the Signal platform are protected by super-strong end-to-end encryption thus making eavesdropping almost impossible. Messages sent from and to non-Signal contacts don't rank high in the department of security and thus users are encouraged to send the invite link to their contacts for installing this dynamic application. Some of its key features are: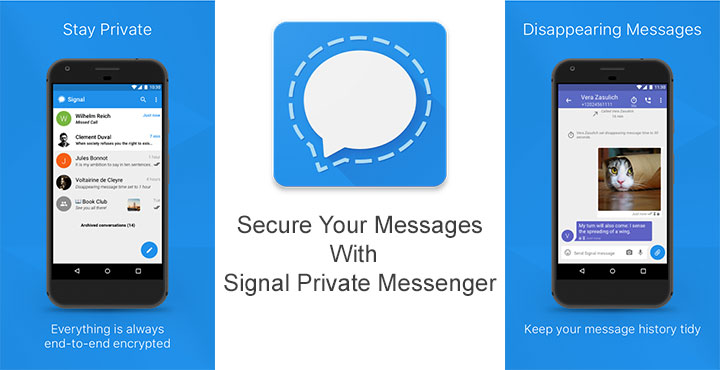 Allows fast and instant message delivery.
Messages are kept safe via end-to-end encryption.
Support is also rendered to encryption of group chats.
Can support secure video and voice (VoIP) calls between users apart from SMS and text messaging.
Features disappearing messages much like the defining attribute of Snapchat.
Every conversation has a unique fingerprint number which can be compared with contacts for verifying their identity.
Viber – This mobile messaging service allows users to send text messages and place phone calls to fellow Viber users without having to incur any extra cost. The Viber VoIP app has been crafted in such a manner that it can be compatible with an array of mobile operating systems. Users can even exchange audio and video media by using this platform apart from just chat and voice calls. Users can even place international calls to mobile numbers and unregistered landline at insanely low rates.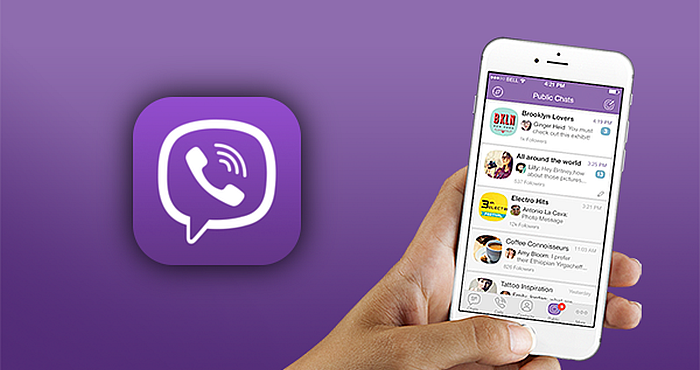 Syncs automatically with other devices.
Allows placing both international calls and HD video calls.
Easy to switch between conversations.
Mobile contacts can be blocked and unblocked easily.
Online status and seen notification can be hidden.
Possible to turn off light screen for incoming messages.
WiFi sleep policy can be changed for preventing your device from going offline.
Android Messages – This is Google's very own text messaging app which comes stacked in most of modern day Android handsets like Google Pixel series. This messaging application is powered by Rich Communication Services thus paving the path for more interactive and richer text-messaging experience. A web version of Android Messages is also present allowing users to transmit messages using their PC. Some of its key attributes are:
You can add a subject to your text for marking it as urgent.
Easy to block people who have been causing a nuisance.
Possible to share your location as well as send money through Google Pay.
Dark mode can be enabled with a single tap.
Allows group texting as well as searching through chat threads.
Supports stickers, emoji and audio messages.
Video and picture taken can be directly shared from the app.
EvolveSMS – This powerful texting replacement application has been designed following the latest Material design guidelines of Google for retaining the fluidity of its interface functionality. The bundled themes of this app can provide you with a plethora of customization opportunities. You can even download add-on themes for benefitting out of additional customization options. Some of the standout features of this messaging app are:
Dual-SIM support.
Ability to search directly for GIF from the app.
Renders support to audio, video, pictures, contact cards and GIFs.
Your message stays protected through password and private inbox.
Single page interface brings lightning fast speed in its application.
Additional features such as batch delete, archives, stand-alone Android Wear application further adds to its functionality.